ბ

The transcription for the Georgian letter ბ is b.
ბ is pronounced like English [b] in baby.

Recordings

| | | | | | | |
| --- | --- | --- | --- | --- | --- | --- |
| ბუ | ბებია | ბამბა | ბუმბული | ობობა | აი ბებია | აი ობობა |
| bu | bebia | bamba | bumbuli | oboba | ai bebia | ai oboba |
| owl | grandmother | cotton | feather | spider | here is grandmother | here is a spider |
Click here to listen:
Speaker 1:

Speaker 2:
When pronouncing the consonant ბ, the lips are joined together blocking the air passage. The air coming from the lungs and processed in the vocal cords bursts the lips open. The upper part of the tongue is tense, the front and the middle parts are lowered down, the tip is slightly retracted from the lower front teeth, the back part is raised up.
---
The letter written or typed in this way is called bani.
It is traced out with one movement of the hand and is written between the three upper lines:
movement of the hand begins at the upper line, goes downwards vertically, after drawing a small section continues across to the right, slightly inclined, then goes downwards vertically up to the upper middle line and ends by drawing a full circle from right to left between the upper and lower middle lines.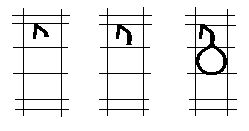 ---
© Manana Kock Kobaidze & Karina Vamling
Malmoe University, Sweden