მ
The transcription of the Georgian letter მ is m.
'მ' is pronounced almost like English [m] in 'milk'.
Recordings:

| | | | | |
| --- | --- | --- | --- | --- |
| მამა | სამი | მესამე | მზე | ვსვამ |
| mama | sami | mesame | mze | vsvam |
| father | three | third | sun | I drink |
მერი მერე მოვა

meri mere mova
[meri then (later) will come]
Meri will come later.

Speaker 1:

Speaker 2:
When pronouncing the consonant მ the pressure of the air, coming up from the lungs is decreased on the closed lips. The uvula is lowered to create a nasal resonance, part the air-stream goes into the nasal cavity. The back of the tongue is raised in the direction of the hard palate and the resonance area in the front part of the mouth cavity is narrowed. The bulk of the advanced tongue is tense and a wide resonance area is created in the back part of the mouth cavity.
---
The letter written or typed in this way is called mani.
It is traced out with one movement of the hand and is written between the three upper lines: movement of the hand begins below the upper line, goes upwards, drawing a semicircle from left to right at the upper line, goes downwards vertically and ends by drawing a full circle from right to left between the upper and lower middel lines.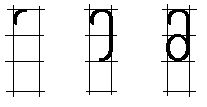 ---
© Manana Kock Kobaidze & Karina Vamling
Malmoe University, Sweden