ნ
The transcription of the Georgian letter ნ is n.
'ნ' is pronounced like English [n] in 'name'.
Recordings:

| | | | | |
| --- | --- | --- | --- | --- |
| ნელი | ნინო | ანა | დანა | სანთელი |
| neli | nino | ana | dana | santeli |
| Neli | Nino | Anna | knife | candle |
ანა ნანას ენანება

ana nana-s enaneba
ana.NOM nana-DAT. feels sorry
Nana is sorry for Anna.

Speaker 1:

Speaker 2:
When pronouncing the consonant 'ნ' the tip of the tongue is set against the front upper teeth. The uvula is lowered and part of the air-stream goes into the nasal cavity. The touching of the sides of the tongue upon the front and back parts of the hard palate is lessened and the wide resonance area, created in the back part of the mouth, helps to pronounce the consonant.
---
The letter written or typed in this way is called nari.
It is traced out with one movement of the hand and is written between the three upper lines: movement of the hand begins at the upper middle line drawing a full circle from left to right between the upper and lower middle lines, goes upwards drawing söightly rounded right angle from left to right at the upper line and ends with a slightly concave transverse line.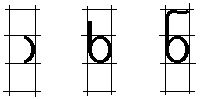 ---
© Manana Kock Kobaidze & Karina Vamling
Malmoe University, Sweden