პ
The transcription of the Georgian letter პ is p'.
'პ' is pronounced almost like English [p] in 'paper' but without aspiration and with force and greater tension of the organs.
Recordings:

| | | | | |
| --- | --- | --- | --- | --- |
| პაპა | პირი | პური | საპონი | პრიალი |
| p'ap'a | p'iri | p'uri | sap'oni | p'riali |
| grandfather | mouth, face | bread | soap | shining |
პაპა პირს იბანს.

p'ap'a p'ir-s ibans
grandfather.NOM face-DAT washes / is washing
Grandfather is washing his face.

Speaker 1:

Speaker 2:
When pronouncing the consonant 'პ' the tip of the tongue is slightly retracted from the lower front teeth, the bulk of the tongue is drawn back to the back of the mouth cavity and pharynx, the back part and the base of the tongue come closer to the pharynx wall. The lips and the bulk of the tongue are tense. When pronouncing 'p' the lips and the throat are closed and the air does not come out of the lings. It is produced with the help of the air stored in the mouth and pharynx cavities, that forces the closed lips open.
---
The letter written or typed in this way is called p'ari
It is traced out with one movement of the hand and is written between the three upper lines: movement of the hand begins a bit above the lower middle line, goes downwards drawing an open circle from left to right between the upper and lower middle lines, goes on upwards drawing a semicircle from left to right that ends with a tip slightly rounded to the right.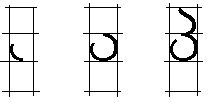 ---
© Manana Kock Kobaidze & Karina Vamling
Malmoe University,