ყ
The transcription of the Georgian letter ყ is q'.
'ყ' is a sound peculiar to Georgian and some other languages. To master its pronunciation articulate it by pressing the back of the tongue to the posterior wall of the pharynx and pronounce [k].
Recordings:

| | | | | | |
| --- | --- | --- | --- | --- | --- |
| ყელი | ყური | საყელო | საყურე | წყალი | ტყე |
| q'eli | q'uri | saq'elo | saq'ure | c'q'ali | t'q'e |
| throat | ear | collar | earring | water | forest |
ბაყაყი ყიყინებს.

baq'aq'i q'iq'inebs
[frog croaks / is croaking]
A frog croaks / is croaking.

Speaker 1:

Speaker 2:
Production of the consonant 'ყ' requires active compressing movement of the base of the tongue and pharynx. The convex part of the base of the tongue sets into the groove, formed in the pharynx wall and then produces a burst with the help of the air, stored above the pharynx.
---
The letter written or typed in this way is called q'ari
It is traced out with one movement of the hand and is written between the three lower lines: movement of the hand begins at the upper middle line, goes downwards, drawing an open circle from left to right between the upper and lower middle lines. goes down vertically to the lower line and ends by drawings a semicircle from right to left with a tip slightly rounded to the right between the lower and lower middle lines.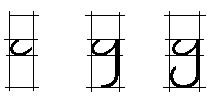 ---
© Manana Kock Kobaidze & Karina Vamling
Malmoe University