ც
The transcription of the Georgian letter ც is c.
'ც' is pronounced almost like English 'ts' in 'cats'.
Recordings:

| | | | | |
| --- | --- | --- | --- | --- |
| ცა | ზეცა | ცული | საცურაო | ცრემლი |
| ca | zeca | culi | sacurao | cremli |
| sky | sky; heaven | axe | for swimming | tear |
ცირა საცრით ცრის.

cira sacr-it cris
[cira (a name) sieve-INSTR sieves /is sieving]
Cira is sieving with the sieve.

Speaker 1:

Speaker 2:
Pronunciation of the consonant 'ც' is accompained by a big volume of air. The tip of the tongue is set against the upper teeth, the top of the front part of the tongue partially touches the alveolae.
---
The letter written or typed in this way is called cani.
It is traced out with one movement of the hand and is written between the three lower lines: movement of the hand begins from the upper middle line, goes downwards to the lower line from right to left, drawing an ellipse, cut in the middle, then goes upwards drawing a semicircle from left to right between the lower and lower middle lines, continues upwards, drawing another semicircle between the lower and upper middle lines, ending with a tip rounded to the right.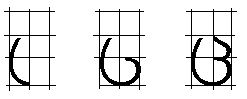 ---
© Manana Kock Kobaidze & Karina Vamling
Malmoe University