წ
The transcription of the Georgian letter წ is c'.
წ is a sound pecular to Georgian and some other languages. To master its correct pronunciation articulate it by pressing the front part of the tongue to the alveoli, like when pronouncing c (ts sequence as in English "cats") but more "scrappy" and tensed.
Recordings:


| | | | | |
| --- | --- | --- | --- | --- |
| წელი | წამი | წუთი | საწყალი | წრუწუნა |
| c'eli | c'ami | c'uti | sac'q'ali | c'ruc'una |
| year | second | minute | poor, miserable | little mouse |
წიწილა წივის და წრიალებს.

c'ic'ila c'ivis da c'rialebs
[chicken peeps and turns (twists) around]
A chicken peeps and turns (twists) around.

Speaker 1:

Speaker 2:
When pronouncing the consonant წ the tip of the tongue is set against the upper alveolae, the bulk of the tongue with the fornt part of the hard palate is broader, compared with the pronunciation of ძ "dz" and ც "c". The throat is closed, the air stream does not come out of the lungs and it is produced by the air, stored in the mouth cavity. It begins with occlusion but passes into the narrow opening without plosion.

---
The letter written or typed in this way is called c'ili.
It is traced out with one movement of the hand and is written between the three upper lines: movement of the hand begins between the upper and lower middle lines, drawing a full circle from left to right the goes upwards vertically, drawing two equal semicircles side by side from left to right at the upper line (in typed texts it is mostly represented like წ).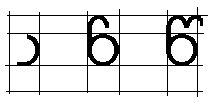 ---
© Manana Kock Kobaidze & Karina Vamling
Malmoe University