ჭ
The transcription of the Georgian letter ჭ is ch'.
'ჭ' is a pecular to Georgian and some other languages. To master its correct pronunsiation articulate it by pressing the blade of the tongue to the posterior portion of the alveoli as when pronouncing English ch but more tensed.
Recordings:

| | | | | | |
| --- | --- | --- | --- | --- | --- |
| ჭა | ჭია | ჭიამაია | ჭამს | იჭერს | ჭრის |
| ch'a | ch'ia | ch'iamaia | ch'ams | ich'ers | ch'ris |
| well, draw-well | worm | lady-bird | he / she eats | he / she catches | he / she cuts |
ბიჭი ბაჭიას აჭმევს.

bich'-i bach'ia-s ach'mevs
boy-NOM rabbit-DAT feeds / is feeding
A boy is feeding a rabbit.

Speaker 1:

Speaker 2:
When pronouncing the consonant 'ჭ' the throat is closed, the air stream does not come out of the lungs and it is pronounced with the help of the air stored in the mouth cavity. The tip of the tongue is set against the back alveolae, the touching space of the tongue in the front part of the hard palate is broader than when pronouncing 'ჩ' 'ch'.

---
The letter written or typed in this way is called ch'ari.
It is written between the four lines with two movements of the hand. Movement of the hand begins from the upper line. goes downwards vertically to the lower middle line, continues downwards from right to left drawing a semicircle with a slightly rounded tip between the lower middle line and lower line. To complete the letter 'ჭ' horizontally positioned full (left) and open (right) circles are drawn on the vertical line between the middle lines.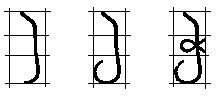 ---
© Manana Kock Kobaidze & Karina Vamling
Malmoe University