ჯ
The transcription of the Georgian letter ჯ is dzh.
'ჯ' is pronounced invariably almost like English
in bridge.
Recordings:

| | | | |
| --- | --- | --- | --- |
| ჯარი | ჯგუფი | დასჯა | სასჯელი |
| dzhari | dzhgupi | dasdzha | sasdzheli |
| troops | group | punish | punishment |
ჯარი ერთად დაჯგუფდა.

dzhar-i ert-ad dadzhgupda
[troop-NOM one-ADVERBIAL grouped]
Troops grouped together.

Speaker 1:

Speaker 2:
When pronouncing the consonant 'ჯ' the top of the fornt part of the tongue is set against the front part of the hard palate, broadly covering the area of the alveolae and producing occlusion-plosion. The tip of the tongue ios lowered at the front teeth.

---
The letter written or typed in this way is called dzhani
It is written between the four lines with two movements of the hand. Movement of the hand begins a bit below the upper line, goes downwards vertically (or diagonally) to the lower middle line, continues downwards from right to left drawing a semicircle with a slightly rounded tip between the lower middle line and lower line. To complete the letter 'ჯ' a short straight line inclined to the right is drawn between the middle lines.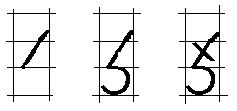 ---
© Manana Kock Kobaidze & Karina Vamling
Malmoe University